Azizi, Jamal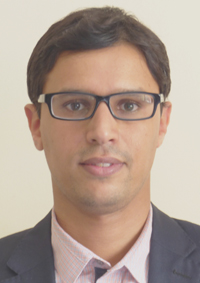 Position:
Post-Doctoral Researcher
Research interests:
Applied econometrics, Industrial Organization, Games theory and Phosphate Economics.
Contact
Mobile: +212 (0)6 61 63 71 40
Email: jamal.azizi@mines-paristech.fr or jamal.azizi@um6p.ma
Address:
CERNA, Mines Paris - PS, 60 boulevard Saint Michel, 75272 Paris Cedex 06, France.
UM6P, Lot 660 – Hay Moulay Rachid, 43150 Ben Guerir, Morocco.
Short CV
Jamal AZIZI is currently a post-doctoral researcher at the Mohammed VI Polytechnic University and member of the chair "Industrial economy of the emergence of Africa" (EIEA). He received his Ph.D. in 2018, under the supervision of Pierre-Noël Giraud, at the Center of Industrial Economics (CERNA) of MINES ParisTech, PSL University (Paris – France). His thesis examines the sustainable management of non-renewable resources in general and phosphate rock in particular. AZIZI has previously been a senior economist at the OCP group, one of the global leaders in phosphate industry.
Papers under submission
- AZIZI, J. (2019). Natural Resources Revenues, Agriculture Development and Urbanization in African Countries.
- AZIZI, J. (2019). Equilibrium Phosphate Rock Capacity Expansion under imperfect competition
Working Papers
- AZIZI, J. & Nouri, F. (2019). Urbanization and agricultural productivity in some African Countries. (In progress)
- AZIZI, J. (2019).Vertical integration and product differentiation in oligopolistic competition. (In progress)
- AZIZI, J. (2018). Global Phosphate Rock Market: An economic overview of future competition.
- AZIZI, J. (2017). Economic impacts of phosphate extraction and valorization on the Moroccan economy: An input-output analysis.
- AZIZI, J. (2016). Liens entre Ressources naturelles, Développement agricole et Urbanisation en Afrique : Approche en données de panel.
- AZIZI, J. (2016). Estimation, partage et usage de la rente des ressources minières : Etude des cas Maroc et Algérie.
Chapters in Books
- Azizi, J., Giraud, P. N., & Ollivier, T. (2016). Richesses de la nature et pauvreté des nations: essai sur la malédiction de la rente minière et pétrolière en Afrique.
Teaching
- 2018: "Phosphate Economics"– OCP Onboarding Program, UM6P, Ben Guerir, Morocco.
- Since 2017: with Giraud, P.N. "Advanced training on Phosphate Economics" for the OCP's Managers, UM6P, Ben Guerir, Morocco.
- 2014-2015: "Time series and application", Master of engineering decision (M2), University Hassan I, Settat.
Conferences and seminars
- Ecole académique, 11ème session, "Modélisation et prospective économique", 30 March 2019, Rabat, Morocco.
- African Economic Conference, "Governance for structural transformation", 4-6 December 2017, Addis Ababa, Ethiopia
- Rencontres Économiques d'Aix-en-Provence, "In search of new forms of prosperity", 8-9 July 2017, France
- Workshop on the Modelling of Energy Markets, "Modelling, Forecasting for Renewable Energy Production and Statistical Inference", 16 March 2017, Université Paris-Dauphine, France
- Global Phosphates Conference, "Supply and demand dynamics, technological innovations in phosphate projects and investment outlook for future operations", 28-29 November 2016, Amsterdam, Netherlands.
- African Development Forum, the Ninth edition, "Innovative Financing for Africa's Transformation", 12-16 October 2014, Marrakech, Morocco.